LIFE INSURANCE
---
Over 22,000 people lose their lives each day in India. Death is a parcel of life, it's inevitable. The loss of a loved one leaves a vacuum, which might never be filled. However, Life Insurance helps fill certain aspects of this vacuum, by protecting against a financial loss that would result from the premature death of the insured.
WHAT IS LIFE INSURANCE?
Life Insurance, in simple words, is an agreement signed between an individual and an insurance provider. Wherein the insurance provider guarantees to pay a sum assured (Sum amount of money) in case of the insured's death. In order to benefit this protection, the insured pays a premium (certain amount every year/half year) towards maintaining the policy.
Life Insurance is nothing but a protection net, which provides financial security/protection against loss of life. The primary purpose is to protect the financial interests of the insured's family.
TYPES OF LIFE INSURANCE POLICIES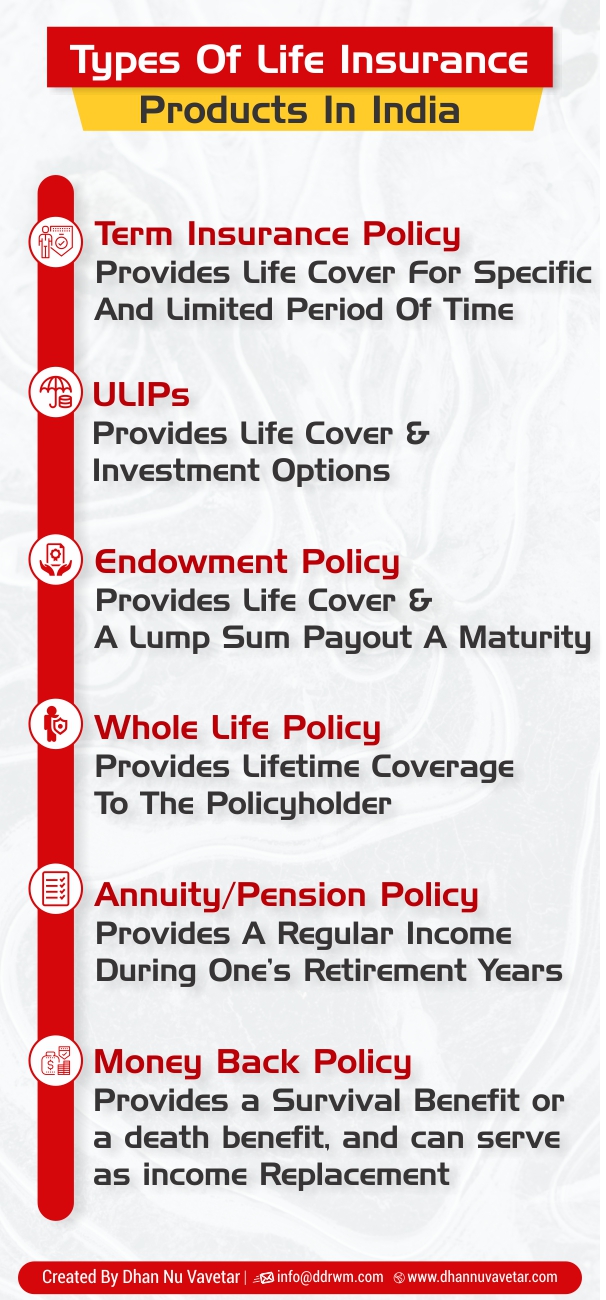 WHICH TYPE OF LIFE INSURANCE WILL BE BEST FOR YOU?
With the wide range of Life Insurance products available in the market, you might find yourself confused to pick the right type of Life Insurance. Well, before you buy a Life Insurance policy, it's utmost important to understand your financial goals, your premium paying ability and coverage needs to be based on which you can decide which type of Life Insurance plan should you opt for – life plans, whole life plans, endowment plans, money back plans, ULIPs, etc.
When it comes to a life insurance policy, it's never one-size fit for all. These policies should meet your requirements, your goals, and your purpose.
HOW DOES A LIFE INSURANCE POLICY HELP YOU TO SAVE ON TAX?
In addition to providing the policyholder financial security, a life insurance policy, also help one save on tax payments.
Premiums paid towards a Life Insurance are eligible for tax refunds under Section 80C of the Income Tax Act and under Section 80CCC of the same act for Pension Plans and Unit Linked Insurance Plans (ULIPs).
The sum of money invested in a life insurance and the interest earned on it are all exempted from tax deductions.
THREE MAIN REASONS WHY ONE MUST CONSIDER INVESTING IN A LIFE INSURANCE PLAN
PEACE OF MIND
Peace of mind is something we all aspire, however only a few people succeed in accomplishing it. A Life Insurance plan can help you achieve peace of mind to a certain extent.
FINANCIAL SECURITY
A Life Insurance plan takes care of all the financial requirements the nominee/beneficiary could have, in the absence of the policyholder. A life insurance plan provides sufficient funds to repay the loan amount, ensuring that there are no additional liabilities to take care of.
ADDITIONAL INCOME
Few Life Insurance plans are aimed to offer additional income to the policyholder. It's designed to keep hand in hand with inflation. Hence, you can plan for the future by investing in life insurance today.