10 MUST–DO INVESTMENT TIPS



---
Piling cash in your regular bank account to ensure a secure and a safe future is a thing of the past. The returns from your regular bank account are far less than you can earn from investing in bonds, FDs, the stock market, SIPs, mutual funds etc.
A strategic investment plan is a key for those who want to achieve financial independence in the future. Just investing in these options is not enough, to achieve the financial goals you need to monitor the progress of investments and stay invested in the long-term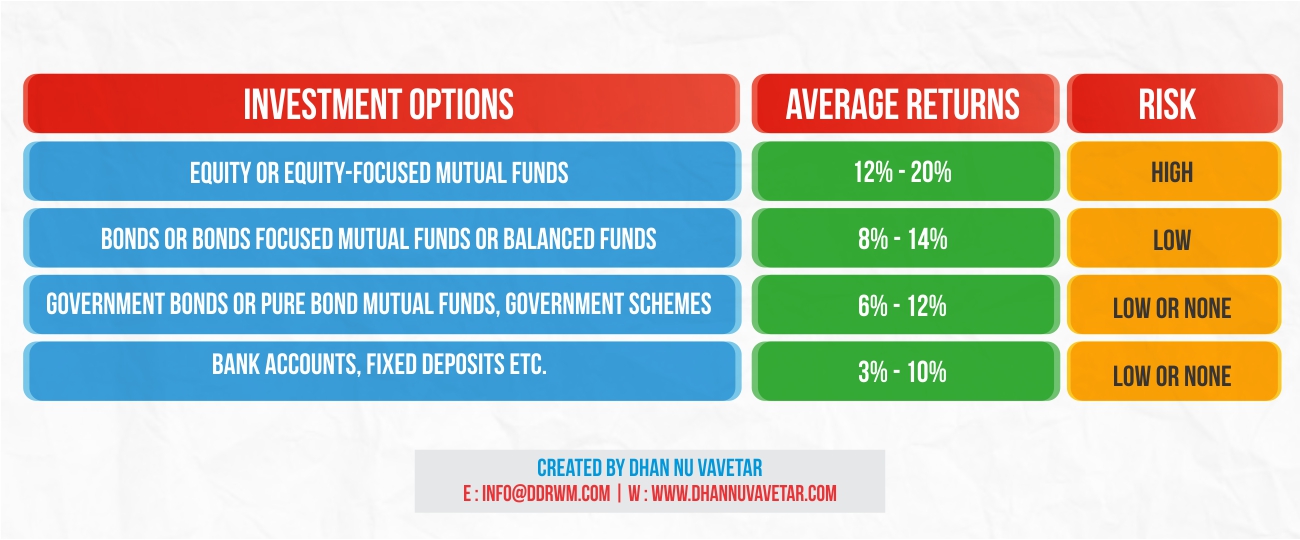 Here's a list of investment tips that can help you to live stress-free future –
KEEP INVESTMENTS SIMPLE, DON'T FALL IN THE TRAP OF QUICK PROFITS
Before you begin with investments, remember, there is nothing such as quick profits. Wealth creation is a long-term process. According to Warren Buffett, "If you don't invest in things you know, you're just gambling."
You must invest in places you know the best. Keep investment simple. Don't swing for profits. When you are promised for quick profits, respond with a quick 'no'.
ABIDE BY THE 'RICH AND POOR' PHILOSOPHY
As a popular perception in financial planning, the rich invest their money and spend what is left. While the poor spend their money and invest what is left. Decide your destiny, your future.
DISCIPLINE APPROACH
Spending extravagantly on unwanted or frivolous things will simply restrict your path to becoming rich. Cutting your spending on everything isn't quite possible. Sensible is to prioritize your expenses, define your needs and then cutting cost mercilessly on the unnecessary things.
LIMIT YOUR BORROWING
You may be tempted to finance your desires and goals, but it increases undue financial pressure in the long run. It is thus suggested to prepare a cash flow projection of your income and expenditure on a month-to-month basis and then plan and prioritize your goals.
MAKE AN INVESTMENT-CUM-EXPENDITURE PLAN
I have seen people spending a lot in a certain month; they curb spending in the next to make up for it, however, they end up in a vicious cycle of debt and little savings.
If you keep going in and out of the market, you may invest to lose. Hence, it's essential to have a long-term investment plan. Invest in an asset class that prospers in a period of the market upturn.
SIPs TAKE AWAY THE HUMAN BIAS
Systematic Investment Plan (SIP) is believed to be a disciplined form of investment.
REVIEW. REVIEW. REVIEW.
If you are one of those who invest and forget, wealth creation seems difficult. A sound investment plan is nothing but one which ensures that you have the required assets at the required time to meet a goal. Asset allocation is hence very important. It is even more important to review it regularly and stick with the plan.
DO YOUR RESEARCH WELL
We are living in an age where it is easy to gather knowledge of your own. Before you invest, it's essential to find out about the products you're investing in, their performance and future growth.

YOU ARE THE BEST JUDGE
Believe me, nobody can truly understand your financial goals, financial needs, and your financial circumstances. If your question is 'how should I pick the right scheme?', the answer is simple –you are the best judge. You need not worry about the long-term investments. However, if the investment is that of short-term, it's always better to consult a financial expert.